SERVING
WHY WE SERVE - Orchard Beach believes: saved people serve people
Being a part of the Dream Team is a great way to get connected with other people who share similar interests. Team members get to use their gifts and experience to make a difference and do something meaningful. There are many unique opportunities available with varying levels of commitment.
For information on any of the ministries listed below, please contact Caroynn Kitchen at carolynn@orchardbeach.church or 814-725-3435.
To view or download Ministry Application, click HERE.
Below are the opportunities to serve:
PRODUCTION TEAM
Join our growing Production Team! We need YOU!
-Worship vocals & musicians
-media: sound, computer, lights
-photography & videography
-video editing & social media


---
GUEST SERVICES MINISTRY
We do everything we do with guests in mind. We are expecting guests. Making a great first impression is important. People have been praying for and inviting others to come. When they do come, we want to provide the most friendly welcome possible. Many people determine whether to return based on the first 15 minutes of their visit. This team helps provide a great welcome.
~ Greeters
~Ushers
~Beach Cafe
~Guest Information table












---
student ministry
This team serves our Children and Teens as well as provides childcare during our Sunday morning and Wednesday evenings and special events. They help kids feel cared for in a safe and fun environment.
Contact Pastor Tammy for more information. tammy@orchardbeach.church
---
other fun & supportive stuff
There are endless ways you can serve and be a part of building God's kingdom. Our goal is to help everyone find an area where they feel fruitful and fulfilled. Often these areas are where you see a need and know God can use YOU to meet that need.
~Photographer
~Event help
~Decorations
~Office help
~Sports Coach
~Drama coach
~Website tach
~Fun event coordinator
---
care ministry team
Visiting, calling, and sending cards helps us to keep in touch, show love and care, and follow up with the sick, shut in, absentees and newcomers. These are tremendous ways to show love- and to be there when people need us most.
~Visitation
~Calling
Sending cards
---
transportation team
Providing transportation is a tremendous blessing to a person without a vehicle or a child without someone to bring them. This team helps to ensure that those who want to come to church have a way to get there.
~Bus/van driver
~Bus/van monitor
~Vehicle maintenance
---
building & grounds Team
Each week, we are expecting guests. We want to provide a great welcome and a good first impression by keeping our building and grounds in good shape. We want to ensure all get a safe visit and what gets broken, or worn out, gets fixed or replaced. This team helps us stay proud of the facility God has provided.
~Maintenance
~Snow shoveling
~Landscaping
~Table/chair setup/tear down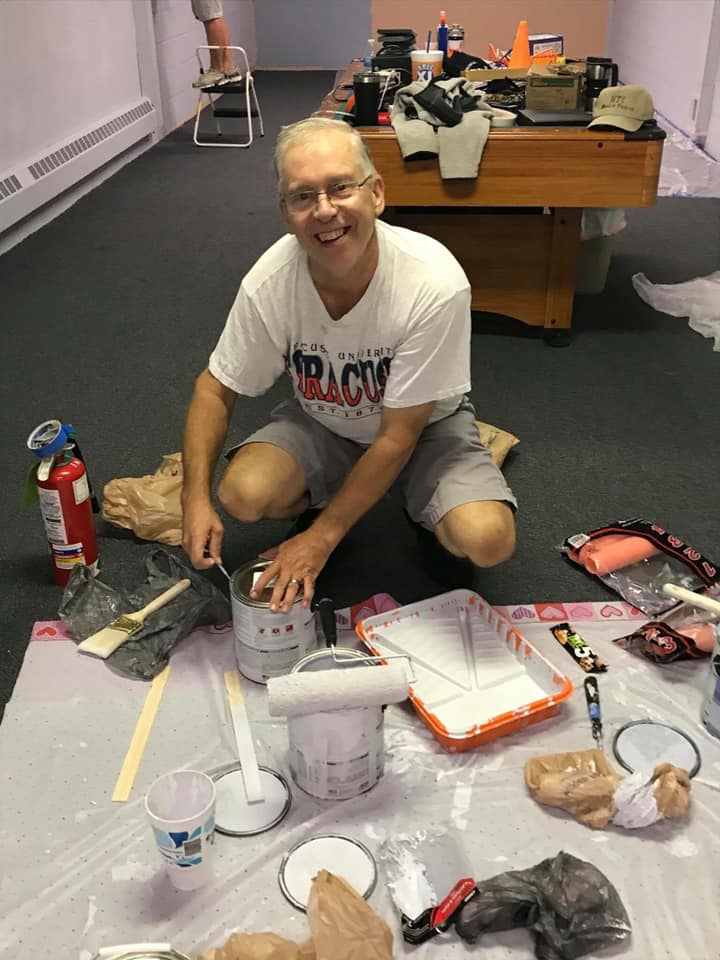 ---
MOPS and childcare Team
Mothers of preschoolers live very busy lives! Young children need a lot of love and constant supervision. We want to help provide encouragement, fun, support, and resources to help parents be the best they can be. This team reaches out to moms with young children and provides childcare for special events.
~MOPS workers
~Mom mentors
~Childcare help
---
Missions Team
Our passion is to make disciples of all nations. We give and serve to meet needs and share Jesus in our community and around the world. We are involved in many service projects in North East and send teams around the world on short-term missions trips. This team helps us stay focused on loving and serving those outside our four walls and keeping updated information in front of the church body.
~Communication team
~Global missions trips
~North East projects
~Local missions trips
---
celebrate recovery Team
Celebrate Recovery is a Christ-centered 12 step, community wide, ministry to help overcome hurts, habits, and hang-ups. This team helps connect hurting people to an environment of hope and recovery.
~Men's Group leader
~Women's Group leader
~Media help
~Meals
~Childcare
~Worship help
---
next steps Team
Spiritual growth is about taking next steps. This team helps people identify and take their next steps in following Jesus.
~Next Steps Coach
~Spirirtual Life Coaches
~Ministry Placement help
~Growth Track teachers
~Water Baptism Prep team
~Life Group Connection help
---
worship service Team
Our desire is to provide a Sunday morning worship experience unchurched people love to attend. From the music, media, speaking,singing, etc, we want it to be an environment teens and adults want to invite their friends to. This team helps provide a great worship experience.
~Singers
~Musicians
~Media: sound/lights/video/computer
---
orchard beach youth
The teenage years are critical years for faith investigation and growth. Teenagers from 6th-12th grade learn to transition from middle school, to high school, to young adult-- and bridge from knowing about Jesus to personally knowing Him and wholeheartedly committing to follow Him. This team helps teens walk through a very exciting period of life.
~Media
~Worship
~Beach Cafe
~Small groups
~Event help
---
food & meals Team
Providing food helps to comfort the grieving, assist families who may be recovering from illness or surgery, and offer times of connection, friendship, and fellowship. There is something intimate about food and eating together--adding relational health and strength to the church family. This team knows the way to a person's heart is through their stomach.
~Beach Cafe
~Church events
~Table/chair set up/ tear down
~Concession Stand
~Funeral Dinners
---
prayer Team
We believe prayer is the pursuit of all our possibilities. Prayer is the power to change lives. To touch the heart of God and to pursue all God has for us, we must be in prayer. A great way to lift up, support, and encourage one another is through committed prayer and care for one another. This team prays for God's favor and blessing over the church and world.
Prayer Partners-- pray for requests that come in or pray with those who respond for prayer in services
Women's prayer meetings--pray on wednesday afternoons together.
---
life groups Team
Life Groups are the place we want everyone, young and older, to end up in. This is the place where people can have fun, make friendships, ask important questions, and do life together. This team provides the best environment for life change. There are Adult life groups, Teen groups and kids groups.